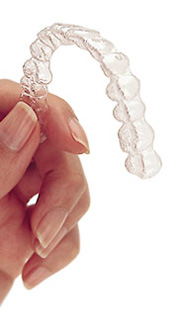 Do you want a straight smile, but the thought of having metal braces for months on end makes you think twice? With Invisalign clear orthodontic aligners, Dr. Robert Lichtenstein can help you achieve the smile of your dreams, all without the use of traditional wires and brackets. Invisalign aligners are clear, comfortable, and removable, and can straighten your teeth just as effectively as traditional orthodontic treatment. A consultation with Dr. Lichtenstein at our Midtown Manhattan office can determine if Invisalign can meet your smile needs.
What is Invisalign?
Invisalign uses state-of-the-art digital technology to make a 3D model of your mouth. Then, aligners are created to move your teeth, slowly and gently, from their current position to the straightened positioned prescribed by Dr. Lichtenstein. Each set of aligners are worn for about two weeks, and are then replaced with the next set in the series. Visits to our Manhattan office every four to six weeks are short and sweet, just long enough for Dr. Lichtenstein to make sure your treatment is progressing on time. Depending on your unique smile needs and goals, your treatment will last between six and nine months.
Invisalign is a revolution in teeth-straightening technology. The aligners are:
Invisible: No one will notice you're straightening your smile unless you tell them!
Removable: You can eat and drink whatever you want, since you can remove the aligners for mealtime. This makes brushing and flossing hassle-free, too.
Comfortable: The aligners are made of smooth plastic, with no metal to cause abrasions. Plus, no wires means no uncomfortable tightening appointments.
Dr. Lichtenstein is an Invisalign Preferred Provider, a status earned after years of successfully using Invisalign to treat a wide variety of cases, and a commitment to continuing education through hands-on Invisalign coursework and seminars.
If you would like to learn more about Invisalign, or any of the other cosmetic dental solutions we offer, please feel free to contact our Manhattan office to schedule an appointment. We're conveniently located at 420 Lexington Ave., New York, NY, one block from Grand Central Station.